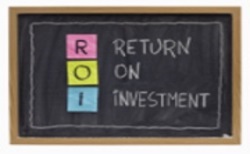 Today I want to share a case study from an actual client of mine.
Side Note: Because I sign non-disclosure agreements with my clients and I respect their privacy and trade secrets, I can't name names or get into details.
A recent client (I'll call him Jim) told me about his manual process for finding new customers. He received a list of potential customers from an outside source and manually went through the list to find possible customers. He then emailed those potential customers to see if they were interested in his services. Jim was spending hours and hours weeding through the lists to find the people he could help. He knew automating his process would save him lots of time.
Jim already owned Microsoft Access and thought that a database could be the tool to cut down on the grunt work. He had read my book, Microsoft Access 2013 for Dummies, and attempted to build a database himself.  It wasn't too long before he decided the project might not be as easy as he thought. This isn't uncommon. So, he called me about Microsoft Access database development work. We worked together on the project requirements and then I got to work building the database. The database applied Jim's logic to import data from the external source files and automatically left out records (in seconds) that Jim had previously spent hours manually sifting through. It then allowed Jim to track which potential customers became actual customers as well as information about the customers — such address, phone, email, and order amounts. Jim also logged in the database his direct contact with the customer including day and time of the call/email and what was discussed. And, the database provided valuable sales figures for Jim.
With the time Jim saved, he was able to spend more time serving his customers and making more money. In the 2 years since I built his database, his sales have more than quadrupled. His initial investment in the project was under $10,000 and his total investment was just over $12,000. Jim's increased sales earnings easily paid for his investment in the database. He now has a scalable database that can be upsized to SQL Server or SharePoint in the cloud when the time comes.
I've seen firsthand and heard this story many times over. Business people manually evaluate data all the time because it needs to be done and there's no other way to do it at the moment. They don't have time to learn the technology which allows for a better solution. You too can get away from the manual grunt work and move toward automation of tasks. And you too can use that time to better serve your customers and increase your sales and productivity.
©Ken Cook
Cook Software Solutions, LLC
Get a Free Estimate